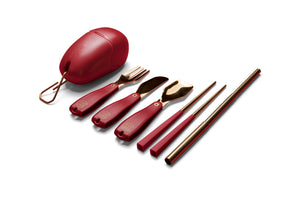 Pebble CLOT Burgundy Edition
Sale price Price €64,99 Regular price €0,00 Unit price / per
Tax included.
Streetwear label and lifestyle brand CLOT brings its striking attention to detail and ornate colour palette to OTHERWARE's dining tool, resulting in the arrival of The Pebble CLOT Burgundy Edition.

The CLOT Pebble features CLOT's signature burgundy on the handles and outer shell, with sleek gold, titanium-coated utensil heads, with the streetwear icon's logo printed on the lid of the shell and on each utensil handle.

Hate single use, but love freedom? With a knife, fork, spoon, straw and chopsticks, the Pebble is made for any occasion. Whether you're commuting, heading out for a picnic or grabbing something to go, you'll have everything you need to say goodbye to single-use plastics this year.

The Pebble weighs the same as a smartphone and comes with carabiner-style clip and lanyard for easy carrying. The case is made from recycled CDs, handles from recycled food packaging and the tips are anodised titanium coated steel, to give the unique coloured tool heads.

The Pebble CLOT Burgundy Edition, like the entire OTHERWARE range, is entirely re-recyclable at the end of life, allowing real material circularity to continue.

Just disassemble and add to your local recycling, or better yet, trade-back to us so we can make new things.

Dishwasher safe
Includes a knife, fork, spoon, straw and chopsticks
Case comes with a carabiner-style clip and lanyard for easy carrying
Weighs 175 grams (including accessories)
Made with recycled polypropylene, polycarbonate and steel
Case is 105mm x 52mm x 54mm