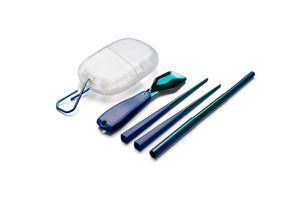 Pocket Pebble Cloud Earth Pinch
Sale price Price €24,99 Regular price €0,00 Unit price / per
Tax included.
OTHERWARE is proud to introduce a Pocket Pebble for the planet.
Made for Earth lovers everywhere, the Pocket Pebble Cloud Earth combines ocean blue handles with electric green tool heads to reflect the exact thing we're trying to protect.
The 'Pinch' set includes chopsticks, spoon and a straw.
45% smaller than its predecessors, the Pocket Pebble by OTHERWARE is the efficient, lightweight edition of our hugely-popular portable dining kit.
Its compact size means it pops right in your pocket for easy carrying.
The case is made from recycled CDs, the handles from recycled food packaging and the tips are anodised titanium coated steel.
The Pocket Pebble Cloud Earth, like the entire OTHERWARE collection, is entirely re-recyclable at the end of life. Just disassemble and add to your local recycling, or better yet, trade-back to us so we can make new things.
Dishwasher safe
Case comes with a carabiner-style clip and lanyard for easy carrying
Made with recycled polypropylene, polycarbonate and steel