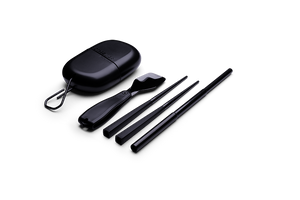 Pocket Pebble Triple Black Pinch
Sale price Price €24,99 Regular price €0,00 Unit price / per
Tax included.
The Pocket Pebble is OTHERWARE's smallest and most compact product to date: the new case's volume has been reduced by 45% through a flatter and slimmer design than its predecessors, making it easily slide into a pocket.

Designed to hold fewer utensils for more space efficiency, the Pocket Pebble weighs 36% less than the original Pebble.

The 'Pinch' set includes chopsticks, spoon and a straw.

The Pebble comes with a custom clip to hang it from a belt loop or bag strap. The case is 'made from music' from recycled CDs, handles from recycled food packaging and the tips are anodised titanium coated steel, and is re-recyclable at the end of its life.

Dishwasher safe
Case comes with a carabiner-style clip and lanyard for easy carrying
Made with recycled polypropylene, polycarbonate and steel